Buying a house in Southwest France
The trials and tribulations of buying a house in Southwest France
We thought it would be useful to anyone else thinking about moving to France if we documented some of the trials and tribulations of our journey! From shipping all our things to France, moving pets abroad, navigating the visa process, buying a house in France, opening French bank accounts and setting up our company from the UK, and a whole host of other things along the way! These are just our own opinions, we are by no means experts, but I know when we were looking to move we searched for other people's stories and experiences, so we hope this helps a little! 
For the first of our series of Moving to France, we thought we'd talk about buying a house in Southwest France. It's one of the first processes we started, and one of the most important!
The original house we went to view
House-hunting in the Charente
Nick went out house hunting with his dad in May 2021, I was meant to travel too, but with work and the quarantining due to the pandemic, it just wasn't feasible. But luckily I trust Nick's taste and he took many many videos of all the properties for me to look over after each viewing (no pressure though Nick!). We had initially fallen in love with a house in the Perigord region of the Dordogne that we had seen online. On paper, it ticked all the boxes – a big main Maison de Maitre style house, full of character, 3 separate gîtes, a pool, some land, and it was well connected. The reality when they arrived, however, was very different and they soon realised that the reason it was so reasonably priced was that it was on a very busy road! So, unfortunately, that wasn't meant to be. Luckily we had lined up lots of other viewings in various parts of the Dordogne and the Charente and Nick and his dad proceeded to view 4-6 different places each day!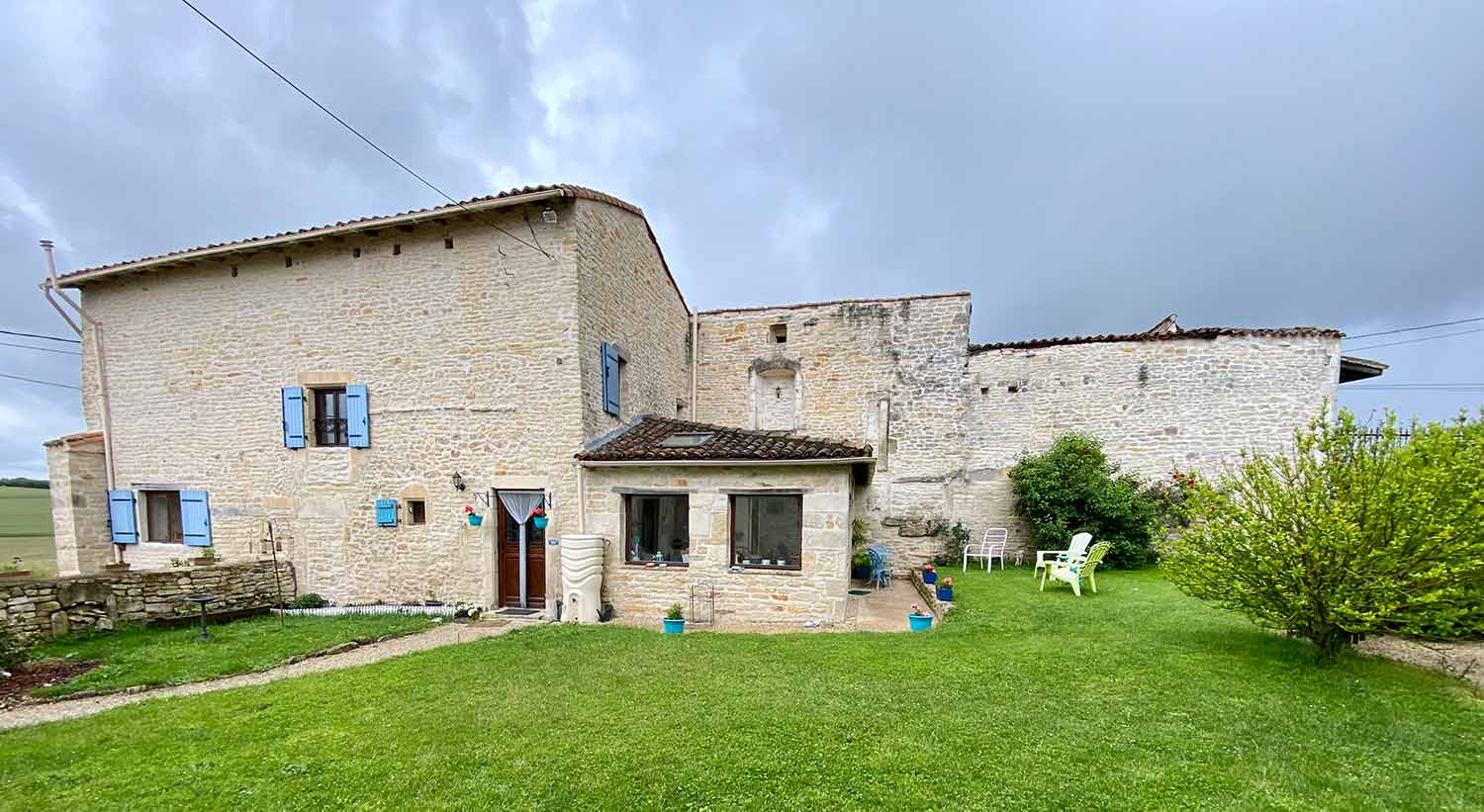 One of the gîtes on the first viewing in the pouring rain!
Finding our dream French property
They viewed properties with various estate agents – Beaux Villages, Charente Immobilier, Leggett, and some smaller agencies, all of which were incredibly helpful and knowledgeable. So many of the houses were right at the top of our budget but needed a lot of work to get them to how we'd want them, so the search continued. Finally, it was actually the wild card that I'd thrown in for them to view on the second to last day that we fell in love with! Nick called me early into the viewing, saying 'I think this could be the one!'. It was under budget but it needed a HUGE amount of work done to it. We worked out that our budget should allow for a lot of the works to be done and over time, we could make it incredible. The first viewing was in the pouring rain, which also made me think, 'if you love it in the rain, imagine it in the sunshine!' 
BOOK TO STAY WITH US
Escape to the tranquility of rural France
The next day they went back for a second viewing and loved it even more! The agent from Leggett was incredibly helpful and talked us through some of the issues she thought would need to be addressed immediately, such as complete rewiring and a new septic tank, etc, so that we could work all these costs into our budget. This really helped! We crunched the numbers, watched all the videos numerous times, looked in detail at the area to check it was well connected to major airports, stations, and roads, and made sure that there were plenty of activities and attractions nearby for guests and us. Nick and his dad also spent some time in the local nearby village – Tusson, chatting to the locals and seeing what was on offer. It was this I think that really sold it, everyone was so incredibly friendly and welcoming. After both living in central London for many years, we craved that sense of community. That was it, we were sold!
Buying a house in Southwest France has been one of the best things we've ever done!
The French house-buying process
Next, we informed Leggett that we wanted to make an offer and they liaised between us and the sellers to quickly come to an offer we were both happy with. Nick and Paul then had to fly back to the UK, so we did everything else remotely with the assistance of our estate agent who was super helpful and was used to this remote process. Once the offer was accepted, we had to sign a document to say the house had been taken off the market and the process began! It is a very different process to the UK, so it's very helpful if you have a good reliable estate agent to talk you through the process step by step. Also, as we are still very much beginners with the French language, her bilingual skills helped tremendously. 
There is one Notaire (like a solicitor) that works for both the buyer and seller and it is the responsibility of the buyer to pay their fees (it's normally around 6-8%) so fairly hefty, but this also covers some taxes, so we viewed it as a sort of stamp duty. However, it was the seller's obligation to pay for the diagnostics report. The diagnostics report is the equivalent of a survey but isn't as detailed. It checks for the presence of asbestos, lead paint, underground gasses, etc. but not on the state of the buildings so much. Once we had the results from the diagnostics and we were happy with it, we then had to then pay a 10% deposit directly to the Notaire. Once this is paid there is no going back, if you back out you lose the deposit. 
For us, it all seemed to be down to the Notaire as to how long the exchange process takes. Our process, unfortunately, fell smack bang in the middle of the August holiday shutdown in France, so it took much longer than we initially anticipated, but this at least gave us time to work on all the other components of the move, like the visas (more on that later!).
Our estate agent kept us informed of the process as time went on and when we eventually heard from the Notaire in mid-September, it all then started to move quickly. The Notaire gave us one week's notice to transfer the money to him in time for the house completion date (even though we had been asking for the bank details earlier than this). Luckily, in order to satisfy our visa criteria (more on visas in another post), we had already opened a French bank account and transferred the house funds to that account, ready to pay the balance on the house, but it still took a few days to get the Notaire approved as a beneficiary with our bank and then to transfer the wire. If you are transferring money from the UK, definitely try and give yourself as much time as possible to make the transfer. The banks will make lots of checks as it's a large amount of money, so try and keep on top of the Notaire for the details you need to complete the transaction, or it can be quite nail-biting!
We made the deadline (just!) and the money was safely with the Notaire. He then sent over the final paperwork for us to sign ahead of the exchange. As we are still waiting for our visas and the embassy keeps hold of your passports during the process, we were unable to fly to France to exchange, but luckily this is also a service that our estate agents offer and they exchange on your behalf, which is fantastic!
After all that, we now own a beautiful house and 4 gîtes in France, a key part of our new life in the sunny Charente!
Escape to the tranquility of rural France and enjoy a luxury getaway at La Cour de Husson