The Complete Guide to Vegan Holidays in France
The Complete Guide to Vegan Holidays in France
Destination, Vegan France
France, renowned for its exquisite cuisine and picturesque landscapes, might not be the first destination that comes to mind when you think of vegan or vegetarian travel. However, the culinary landscape in this beautiful country has been evolving, making it an increasingly attractive destination for plant-based travelers. From traditional French vegan dishes to a surge in vegan options, this guide will help you navigate the world of veganism in France.
The French Attitude to Vegetarianism and Veganism
French cuisine has long been associated with buttery croissants, gooey cheeses, and cured meats. Historically, vegetarianism and veganism were not mainstream in France, and the idea of enjoying a meal without animal products might have been met with skepticism. However, times are changing. The global rise in awareness about animal welfare, health, and environmental concerns has had an impact on French attitudes toward plant-based diets.
The number of vegans in France has been steadily rising and more rapidly in recent years. In 2022, Deliveroo the delivery service conducted a study which found that 26% of French people would try veganism for a month. Interestingly, a study carried out by Statista in 2022 found that 11% of people aged between 18-19 followed a vegan diet in France. This is particularly high in comparison to other European countries, so the future looks promising for veganism in France going into the future. 
While France still has a strong culinary connection to animal products, the younger generation is definitely showing increased interest in plant-based eating. This shift is reflected in the growing number of vegan and vegetarian restaurants, the availability of vegan options in supermarkets, and the general openness of French society to explore alternative dietary choices.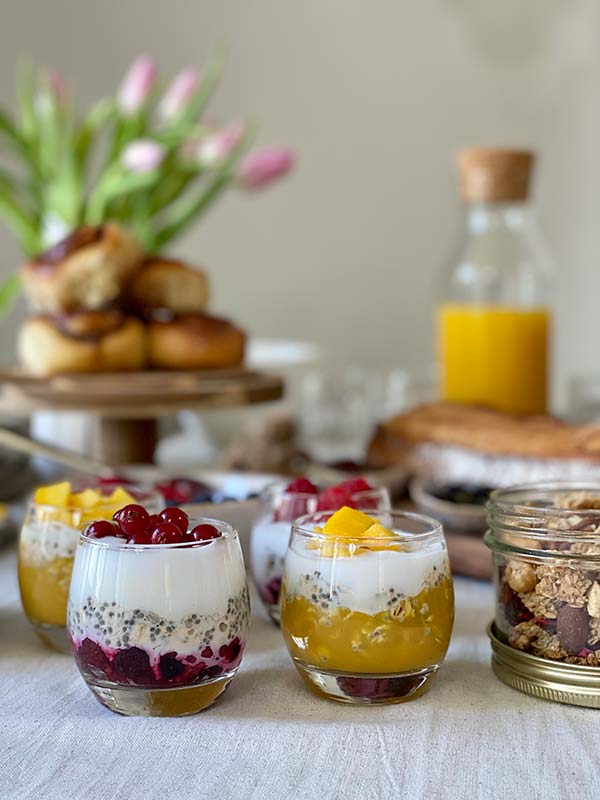 A vegan breakfast at La Cour de Husson
French terminology for vegans and vegetarians
 Ordering vegan food in France can be a much easier experience if you're armed with a few key French phrases and an understanding of the local culinary culture. When dining out, start by letting your waiter know you're vegan by saying "Je suis végétalien(ne)/végane" for "I am vegan" or "Je ne mange pas de produits d'origine animale" for "I don't eat animal products." Here are some essential terms and phrases to navigate French menus:
Végétalien(ne): The technical term for "vegan." It is also extremely common to just use the international English term Vegan, pronounced "vee-gan" with a hard "g" in French. 

Végétarien(ne): For "vegetarian."

Sans viande: Literally "without meat."

Sans poisson: Means "without fish."

Sans œufs: Translates to "without eggs."

Sans produits laitiers: Indicates "without dairy products."

Je voudrais…: Start your order with "I would like…" For example, "Je voudrais une pizza végan."

Est-ce que c'est végan?: To ask if a dish is vegan.

Avez-vous des options végétaliennes?: Inquire if there are vegan options available.
Traditional French Vegan Dishes
Believe it or not, France has a treasure trove of traditional dishes that are either naturally vegan or can be easily adapted. These dishes showcase the rich tapestry of flavors and ingredients that French cuisine is known for:
Croissants: The traditional "croissant ordinaire" is a beloved French pastry known for its light and flaky texture. Unlike its buttery counterpart, the croissant ordinaire relies on vegetable-based fats, such as margarine or vegetable oil, for its signature layers. This distinction yields a slightly different flavor profile—less buttery but equally delightful. The croissant ordinaire is a testament to the French commitment to culinary craftsmanship, offering a vegan-friendly option that captures the essence of a classic croissant while appealing to a broader range of tastes and dietary preferences.
Chichoumeille is a traditional vegan French dish originating from the Languedoc region. The word Chichoumeille is a charming term used in the Occitan dialect of southern France and refers to the feeling of coziness and contentment one experiences when sharing a warm and enjoyable meal with loved ones. It's made with a combination of aubergine, tomatoes, onions, peppers, and olive oil. 
Ratatouille: An absolute classic. The wonderful medley of vegetables like aubergine, courgette, bell peppers, and tomatoes, seasoned with fragrant herbs was made even more famous by a certain Pixar film of the same name. The traditional accidentally vegan Provencal dish really is a seasonal celebration of the vibrant colors and flavors of the region.
Carottes Paysannes: translating to "Peasant Carrots," is a rustic and flavorful French dish that celebrates the natural sweetness of carrots. This traditional preparation involves slow-cooking carrots with onions, garlic, and herbs in a vegetable broth until they're tender and infused with the rich flavors. The result is a comforting and wholesome side dish that embodies the simplicity and charm of French rustic cuisine. "Carottes Paysannes" exemplifies the art of transforming humble ingredients into a dish that encapsulates the heart and soul of traditional French cooking.
​​Poivrons à la Tomate, or "Peppers with Tomato," is a delightful French dish that showcases the vibrant flavors of peppers and tomatoes. In this classic preparation, colorful bell peppers are roasted or sautéed to enhance their natural sweetness and paired with ripe, juicy tomatoes. The medley is often infused with herbs like thyme or oregano, resulting in a harmonious blend of tastes and textures. This dish embodies the essence of Provencal cuisine, offering a burst of Mediterranean flavors that are both comforting and invigorating. 
Bouillabaisse: A hearty vegetable stew originating from Marseille, typically made with potatoes, fennel, onions, and a variety of local herbs. While the traditional version includes seafood, it's not uncommon to find vegan adaptations that capture the essence of this coastal delight.
Baguettes are also, of course, traditionally vegan, so you don't have to worry about getting that French bread fix in the home of the boulangerie.
The Rise in Vegan Options in France
The rise of veganism has not bypassed France. Major cities like Paris, Lyon, Bordeaux, and Nice are experiencing a growing number of vegan restaurants, cafes, and specialty shops. Beyond urban areas, even smaller towns are becoming more accommodating to vegan travelers.
Paris, the culinary capital of the world, boasts an impressive selection of vegan eateries. From elegant bistros to cozy cafes, you'll find diverse vegan options that celebrate both French and international flavors. The Marais district, in particular, is a hotbed of vegan activity, with a multitude of restaurants and shops catering to plant-based enthusiasts. 
Some of our favourites in Paris are: Land & Monkeys, The Friendly Kitchen, Le Potager de Charlotte, Bodhi Vegan, Jah Jah, VG Pâtisserie. 
A great place to find vegan recommendations for Paris is on vegantourist.fr. Franck, who runs the website (and social media accounts) produces a vegan map to Paris every year. They are incredibly useful to navigate around the city to the best spots. We have physical copies of the map at La Cour de Husson for guests to take on day trips to Paris, or you can view the map on his website.
Lyon, often considered the gastronomic heart of France, is also embracing veganism. Traditional Lyonnaise dishes are being reinvented with plant-based ingredients, offering visitors a chance to savor the essence of Lyon without compromising their dietary preferences.
Vegan restaurants or restaurants with vegan options to check out in Lyon: Against The Grain, Toutes les Couleurs, Like An Elephant, Prana, Materr.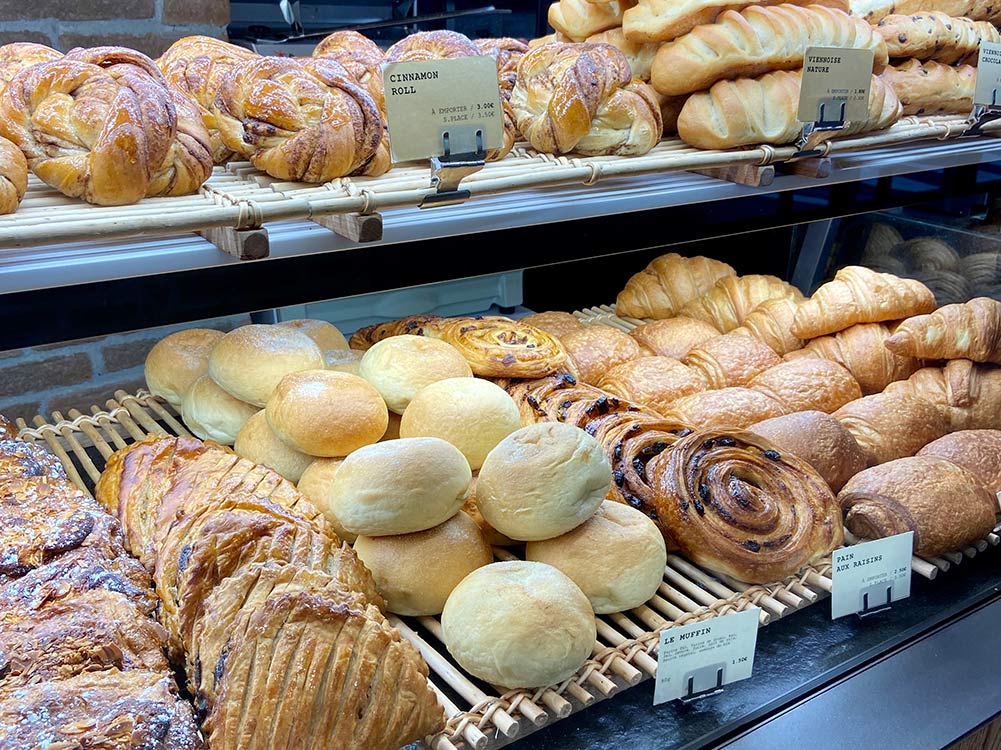 Bordeaux, famed for its world-class wines, is also a rising star in the French vegan scene. This picturesque city along the Garonne River offers an array of vegan-friendly restaurants, from cozy bistros serving plant-based delicacies to wine bars offering vegan wine pairings. Bordeaux's culinary renaissance caters to all, making it a must-visit for vegan travelers. By train you can reach Bordeaux from La Cour de Husson in around an hour, perfect for a culinary day trip. 
Some of our favourite places in Bordeaux that are either fully vegan or serve vegan options are: Michel MaBelle, Monkey Mood, Fufu Ramen, MAMACAM, La Cuisine d'Hélène.
Shopping at Supermarkets as a vegan in France
If you're looking to prepare your own meals or stock up on snacks, French supermarkets offer a range of vegan products. Major supermarket chains like Carrefour, Leclerc, and Auchan all have a selection of different vegetarian and vegan foods, although you have to search for them quite a bit. In France it's more unusual to have a dedicated plant-based sections and it's more common for things to be mixed in together. You'll find plant-based milk, vegan cheeses, tofu, tempeh, legumes, grains, and an array of fresh fruits and vegetables, but you may have to do a bit of rooting around. 
Carrefour, one of France's largest supermarket chains, has launched its own line of vegan and vegetarian products under the name "Carrefour Veggie." This line includes a variety of options, from plant-based sausages to ready-to-eat vegan meals.
Vegan food at French organic supermarkets
France's emphasis on high-quality produce extends to organic shops as well. Organic stores like Biocoop and Naturalia offer a wide range of vegan products, often sourced locally or regionally. From pantry staples to indulgent treats, these stores cater to conscious consumers.
Biocoop is a cooperative network of organic stores that prioritises sustainability and ethical sourcing. Here, you can find an array of fresh and packaged vegan foods, including tofu, seitan, fruits, vegetables, grains, nuts, and plant-based dairy alternatives.
Naturalia, another popular organic store chain, offers an impressive selection of vegan products, including cruelty-free cosmetics, supplements, and eco-friendly household items.
Roasted pear with melted chocolate, buckwheat granola, and almonds at Le Potager de Charlotte.
Eating Out at Restaurants as a vegan in France
Dining out as a vegan in France is becoming increasingly easy. While you may still encounter challenges in some traditional establishments, more and more restaurants are adapting to the demand for vegan options. Chefs are creatively reimagining classic dishes to cater to plant-based tastes, ensuring that your dining experience remains both authentic and satisfying.
Le Potager de Charlotte in Paris is a quintessential example of this shift. This gorgeous vegan restaurant offers a seasonal menu that reflects the changing bounty of French produce. From savory galettes to delectable desserts, Le Potager de Charlotte showcases the culinary diversity that can be achieved with plant-based ingredients.
Where to Search for Restaurants with Vegan Options
HappyCow: The go-to resource for vegans, the HappyCow website and App has an extensive directory of vegan and vegetarian-friendly restaurants in France. It also provides reviews and ratings from fellow travelers, helping you to find the perfect place to eat.

Local Food Blogs and Social Media: Local food bloggers and social media influencers often share their vegan dining experiences and recommendations. Search for hashtags like #VeganInFrance to discover hidden culinary gems and unique perspectives. On Instagram, type in "Vegan *name of the place*" and the search feature will always bring up great posts about restaurants and the vegan scene in that particular area. It's a great place to start from.

Local vegan Facebook groups are also a great place to ask for advice and recommendations. Some of our favourite French focussed vegan groups are: "English speaking vegans in France", "Vegan life in France", "Veggie & vegan food in France", and "Végétariens, végétaliens, vegans".

Restaurant Booking Platforms: Platforms like TripAdvisor and Yelp allow you to filter restaurants by dietary preferences, making it easier to find vegan-friendly options in your chosen destination.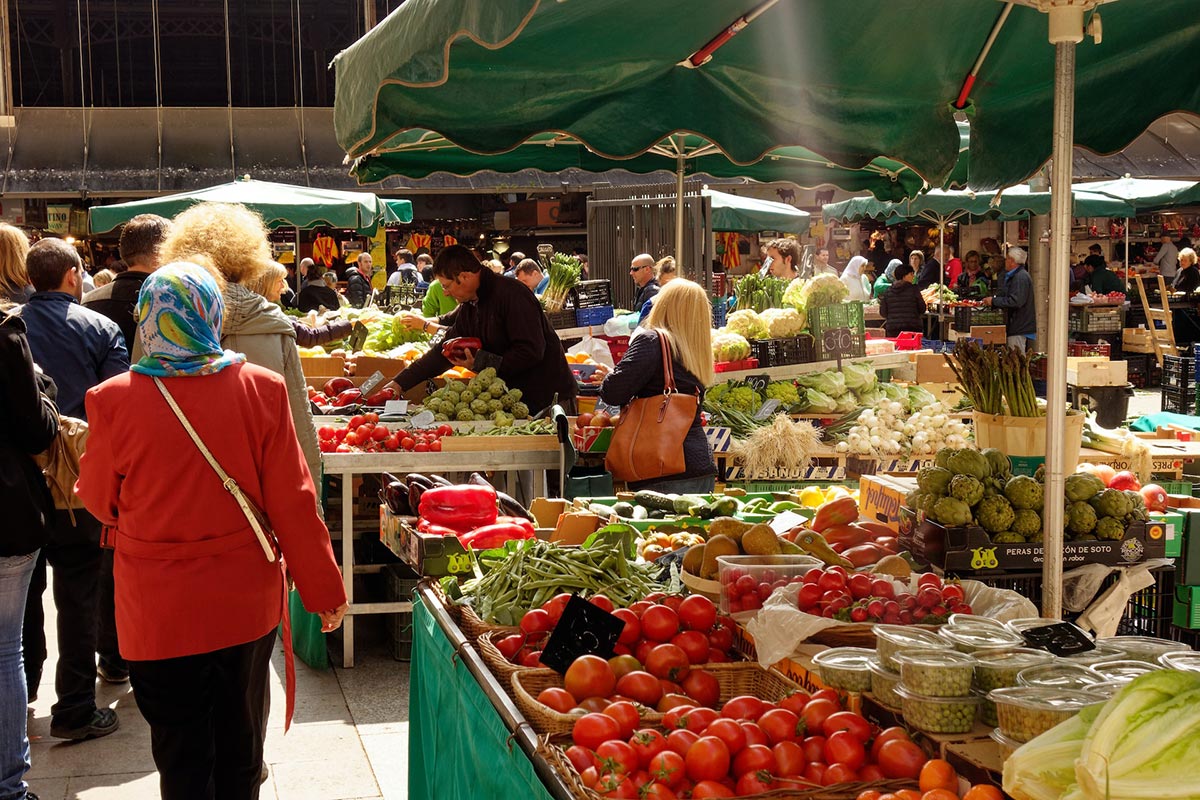 Navigating Vegan France: A Rewarding Journey
As you explore the delights of France as a vegan traveler, you'll discover that the country's culinary landscape is evolving in exciting ways. The French attitude toward vegetarianism and veganism is shifting, making it more accommodating for plant-based diets. From savoring traditional vegan dishes to discovering the surge in vegan options, shopping at supermarkets and organic stores, and indulging in dining experiences at restaurants, France is coming around to the vegan movement. So pack your bags and embark on a journey of flavours, culture, and vegan discoveries in this enchanting land. Bon appétit!
Enjoy a luxury getaway at La Cour de Husson