The historic village of Tusson
The historic village of Tusson
Tusson is a beautiful, typically French village, but with lots more to offer than most other sleepier villages. Dating back to the 12th Century, it is only a 35 minute walk (or 2 minute drive) from La Cour de Husson.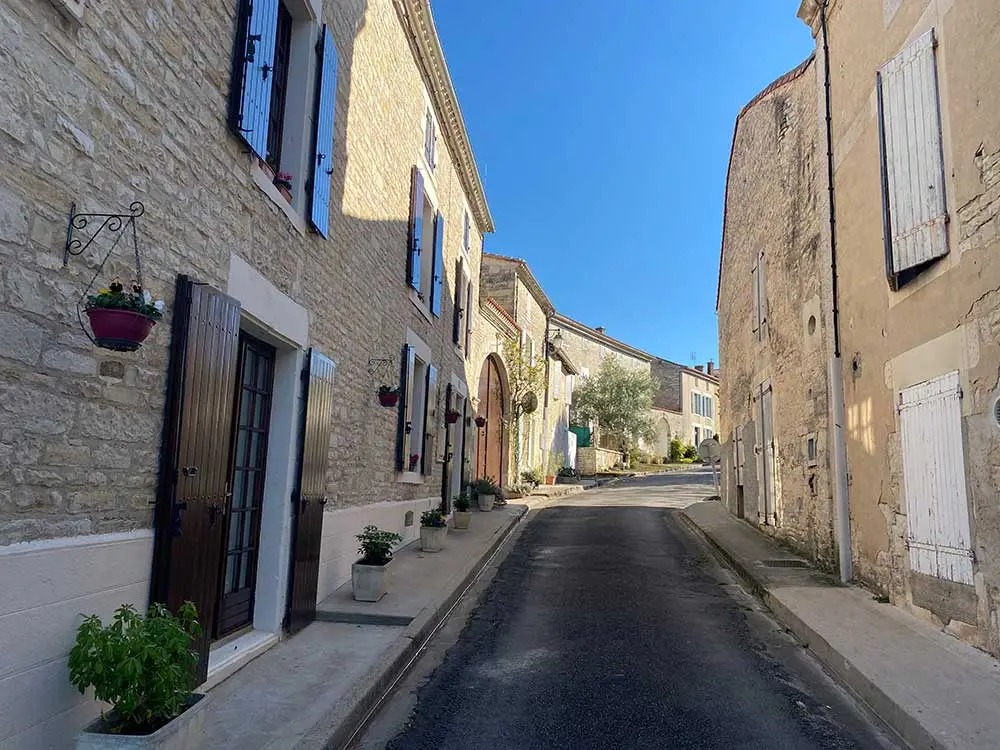 The peaceful streets of Tusson
Walking in the Charente
Tusson sits along a pilgrimage route that runs from Tours all the way to Santiago de Compostella in Spain!
There are many beautiful walks to explore in and around the village, including the "Le Circuit Fleuri" (flower walk) which takes in some of the village's stunning gardens. Ambling around the pretty streets you will come across beautiful ancient houses dating from the 15th to the 18th century, ornamental and aromatic gardens, as well as grand roses adorning the elegant stone walls of the houses. 'The Monastic Garden of Tusson', situated inside the historic abbey, which is officially listed as one of France's 'remarkable gardens' is also well worth a visit.
The village is surrounded by vineyards and the walk from La Cour de Husson to Tusson takes in several vineyards and sunflower fields, and couldn't be more picturesque! 
Walking between Tusson and Charmé, nestled in the rolling countryside you can discover a prehistoric dolmen! Dating to between 4,500 to 4,000 BC, the megalithic tomb is built with a huge slab of rough stone measuring four and a half metres in length and only rests on four small blocks. The mind boggles!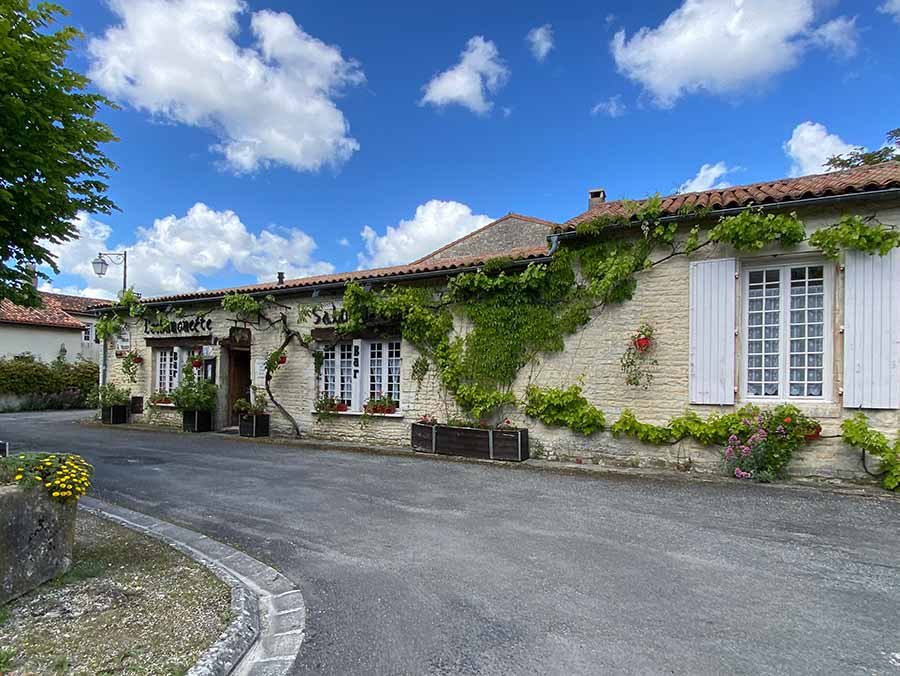 The cute bar/tea room L'Echauguette in Tusson
Eating and drinking in Tusson
Cake, glorious cake!
Tusson is home to Gateaux, a wonderful cafe and flower shop that attracts people from miles around! The homemade cakes are absolutely delicious and there is always at least one vegan cake on offer. The owner Lydia also sells a huge array of house and garden plants, and exotic freshly-cut flowers. It's the perfect place to relax in both summer, with its gorgeous walled garden & seating area, or in winter in the cosy lounge, sat by the roaring wood burner. 
As well as Gateaux, and if you're looking for something savoury, there is a very popular restaurant called Le Jardin du Compostelle set in a beautiful garden. They use local products and it has a great reputation, although it's not great for vegetarians or vegans!
The epic selection of cakes at Gateaux
Stonebaked pizza takeaway
Make sure you book your pizza in advance at the extremely popular "Pizzeria La Tussonaise". They have a great selection of pizzas and will make them vegan ("sans fromage") if requested. It's best to book your slot for pizza in the morning for that evening, especially at weekends!
Bar / Tea Room
L'Echauguette is a beautiful little bar hidden in the village, serving beers and wine, and a huge selection of teas. It's open most afternoons and evenings in the summer and then at weekend evenings in the winter, where its roaring fire will keep you warm. If you're lucky, the owners will show you some of their beautiful old photographs and memorabilia as one of the owners was a famous ballet dancer!
Tabac / Boulangerie
Although there is no boulangerie in Tusson, the local tabac which is open from 7 am – 12 pm and again in the afternoons sells bread as well as other essentials.
BOOK TO STAY WITH US
Escape to the tranquility of rural France
The artisanal heart of Tusson
Tusson is a very creative village and it's home to an array of artisans. including incredible stained glass makers, Anne and Didi who worked on restoring Salisbury Catherdral in the UK and many churches in Paris and around the world. There is an exceptional potter in the village square with an adjoining shop that is open most days for you to purchase beautiful stoneware crockery.
The magnificent sculptor Marc Deligny has his studio in the village too. He has worked on buildings and pieces all over the world and was chosen to rebuild the statues in the iconic Angoulême cathedral. You can admire some of his breathtaking pieces from outside his studio where they face out into the square, it really is something special. 
All of the ateliers open their workshops at various times throughout the year and some of their works are for sale in the local gallery in Tusson during the summer months.
The pottery studio in Tusson
Abbey / Visitor Centre
The medieval village of Tusson is famous for being the place where Marguerite d'Angoulême, the sister of King Francois 1st, known for her political influence and literary work, lived during the 15th century. You can visit the ancient ruins of what was her home; the stunning 15th-century medieval abbey, "Abbaye des Dames". The abbey is set in beautiful grounds which are steeped in history, much of which is explained in the fascinating adjoining visitors centre.
Escape to the tranquility of rural France and enjoy a luxury getaway at La Cour de Husson