The area around La Cour de Husson is packed full of places to see, things to do, and delicious food to eat. Poitou-Charente and it's neighbouring Charente Maritime have countless things to explore. Below we have listed just some of our favourite activities, sights, and days out. We are still discovering more every day!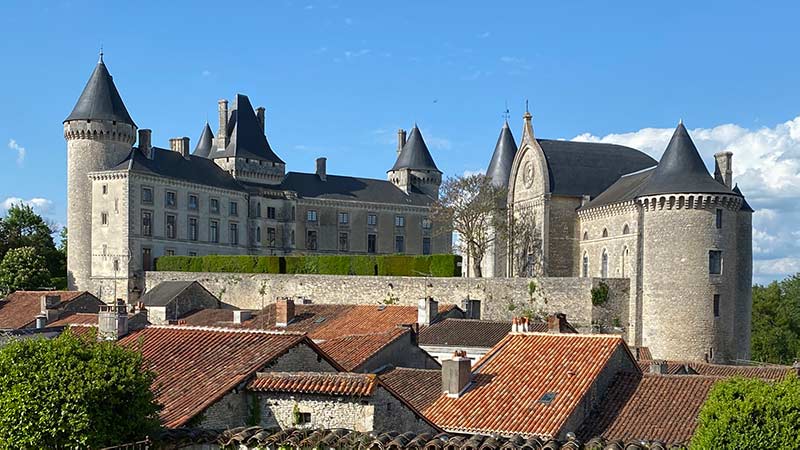 The stunning village of Verteuil-sur-Charente
The magnificent Verteuil-sur-Charente is only a 15-minute drive from the property. With its enviable views of one of the most stunning chateau in France, it draws visitors from all over France.
The historic village of Tusson
Tusson is a beautiful, typically French village, but with lots more to offer than most other sleepy villages. From cake shops to restaurants, and from historic abbeys to galleries, Tusson has plenty to offer for a relaxing day out. Read on to find out more.
Kayaking on the Charente river
The Charente river can be accessed within a ten-minute drive and there are many places to hire kayaks, paddleboards, and pedalos. Such a fun way to spend an afternoon!
Cognac tastings and tours
The exceptionally charming city of Cognac is a 45-minute drive away. You can tour the world-famous Cognac distilleries, have cocktails on roof bars, eat in exquisite restaurants, and shop in the quaint cobbled streets.
The comic book mecca of Angoulême
Architecturally stunning, Angoulême is a 35-minute drive away. It has a huge array of bars & restaurants, shops, museums, and galleries. It is also home to the annual Ramparts classic car race every September and the world's second-largest comic festival in January.
Bordeaux, the beating heart of French wine
Bordeaux is only 30 minutes on the train from Angoulême or just under a 2-hour drive. It's definitely worth a visit, it is a magical place. The architecture is breathtaking and as it's a fairly small city, you can easily get around the centre on foot. Perfect for soaking in all that French beauty.