A New Life In The Sun - Our vegan gîtes on Channel 4!
A New Life In The Sun – Our vegan gîtes on Channel 4!
La Cour de Husson is being featured on TV!
This is not something we ever thought we'd be saying but you can now watch us on the popular British Channel 4 show, A New Life in The Sun! We were offered the opportunity to be on the show, which follows British people moving to Europe and starting new businesses, at the end of 2021 and they filmed throughout our renovation process! 
It was a fantastic opportunity to document our journey, share our story with everyone, and also, hopefully, inspire other people to make the move and maybe try something completely out of their comfort zone. A New Life in The Sun was what inspired us over lockdown and got us thinking more seriously about our move to France, and just giving it a go!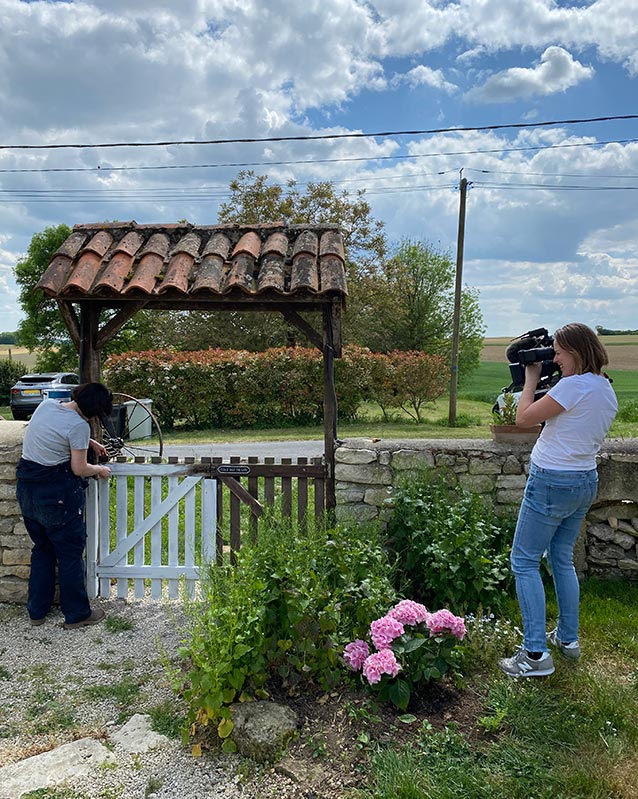 Jen putting the finishing touches to the exterior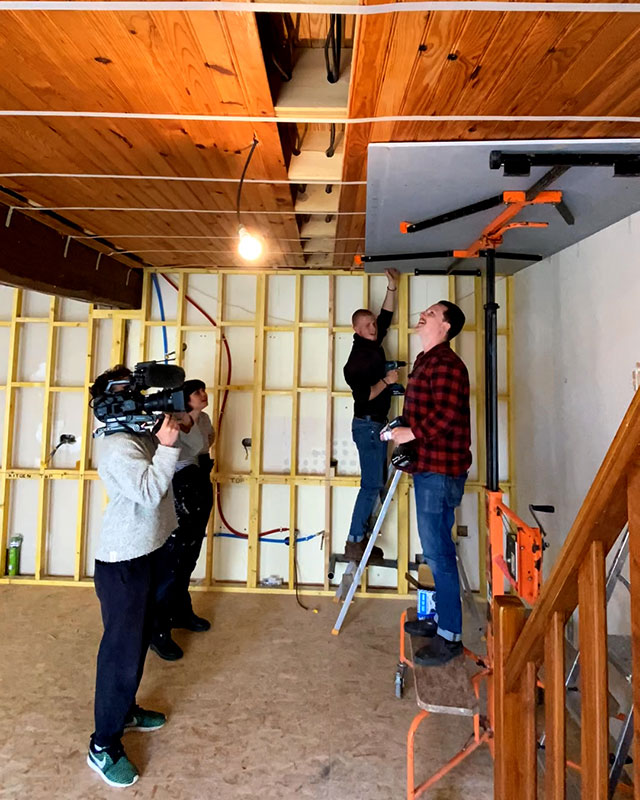 Nick and our workaway Joe plasterboarding the ceiling in the gîte
Filming for A New Life in The Sun
Having a platform like A New Life in The Sun to be able to share our story on, and let people know what we're all about and what we are trying to achieve is absolutely huge for us and we're so grateful for the opportunity. 
To get to the point of sharing our beautiful part of France with guests, first, we had a mammoth renovation job to do to get the first gîte and the grounds ready to how we envisaged, and what we wanted to offer to our guests. The camera crew filmed all along the way so you can follow the journey with us! From ripping out bathrooms, knocking down walls, taking up floors, and putting new ones in, to landscaping, decorating, and everything in between. 
We really enjoyed the whole process and the experience of filming, although it took a bit of getting used to as neither of us had been on the other side of the camera before. We soon got used to it and it was really fun. We worked with quite a few of their crew who were all super lovely, and they said how much they enjoyed watching our progress too! One of the last days of filming was our opening day when we welcomed artists Kate Mary and Rie Kitawaga for our first artist residency! We were super nervous, especially having it all captured on camera, as you can imagine, but it went very smoothly and it was wonderful to finally have guests enjoying all our hard work and loving the place as much as we do. It was quite magical! 
In the middle of re-pointing the wall around the swimming pool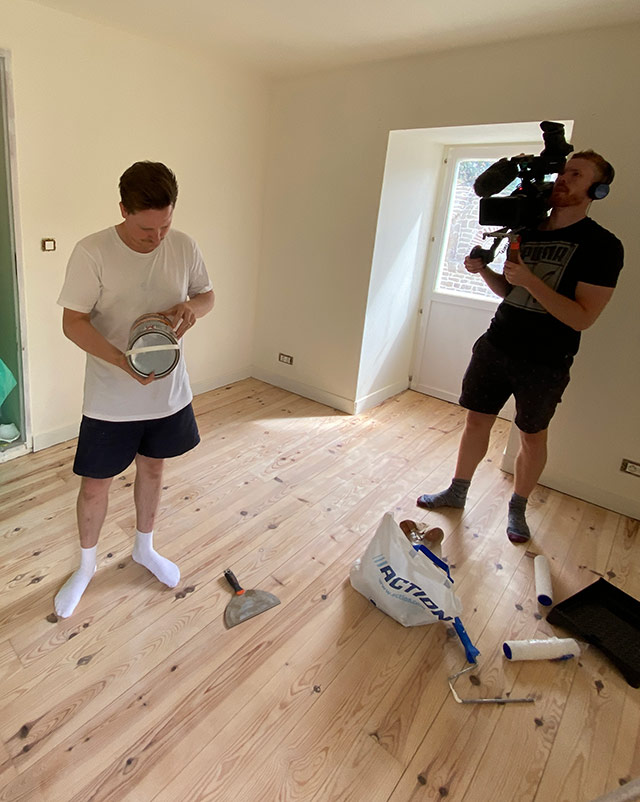 Nick about to start oiling the floors in the gîte
Vegan holidays in France
We always knew we wanted our business to be centred around a vegan, plant-based lifestyle, something that we are both super passionate about, and running plant-based gîtes seemed like a fantastic way to do this. We're situated in a stunning setting in the Charente countryside, in a country that isn't traditionally known for its vegan lifestyle! 
Obviously, you don't have to be vegan to stay here, but if guests are vegan or plant-based then we can help with advice on where to eat, and even offer a vegan fridge fill on arrival. We only use vegan and cruelty-free cleaning products and toiletries in our accommodation, and we'll be building on these vegan options as we build the business over time.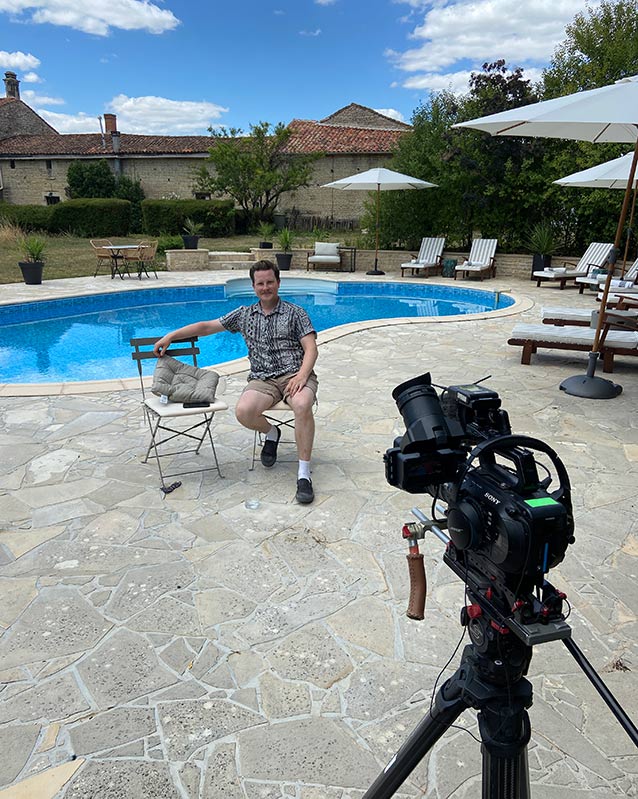 Nick getting ready for his closeup…
Out and about in Angoulême filming with Josh
It has been a crazy first year of living in France but we are absolutely thrilled with our progress so far and can't wait to welcome lots more guests in the summer, and to continue renovating the other gîtes. If you tune in, we hope you enjoy watching us on Channel 4 and seeing the progress over the last year, and hope to maybe welcome you to this beautiful part of France one day.
Jen & Nick x
Enjoy a luxury getaway at La Cour de Husson